News
GP2 Technologies Co-Founder Jerry Peterson Retiring
Jerry Peterson, co-founder of GP2 Technologies, Inc., has formally retired from his day-to-day duties as VP Operations. After nearly 21 years overseeing production, finance, and personnel, Jerry will hand over responsibilities to Pam Preston, our General Manager and 20 year veteran of our management team. Although we will miss his daily presence, he will continue to serve as co-owner. Jerry's contribution was critical to the start-up and continued success of GP2 Technologies.
---
Ted Greene of GP2 Technologies and John Ingram of Ingram Content Group
| | | | |
| --- | --- | --- | --- |
| | | | |
| | | Ted Greene, a founding partner in GP2 Technologies and John Ingram, Chairman of the Ingram Content Group, parent company of LSI attend the opening of the new POD book facility in Jackson, TN on Wednesday, September 18. | |
Jackson, TN ribbon cutting ceremony
| | | | |
| --- | --- | --- | --- |
| | | | |
| | | The ribbon cutting at the new Jackson, TN facility included many VIPs including John Ingram, Chairman of Ingram Content Group, Shawn Morin, President of LSI, and Bill Lee, Governor of Tennessee. "Mr. Greene stated that GP2 Technologies is thrilled to play a small, but critically important role in LSI's great success in the production of POD hardcover books." | |
Please visit us at booth 404 to see live demonstrations of the leading POD hardcover production solutions.
July 2018 - Introducing the AC-20X Casemaker
Introducing the AC-20X, the next generation POD casemaker featuring zero make-ready and fully automatic production at 20 covers per minute.

AC-20X Casemaker Specifications



Ted Greene honored by The Book Manufacturing Institute.
Ted Greene, VP Sales & Marketing, founding partner of GP2 Technologies, Inc. has recently been inducted into the Cased-In Club by the BMI in recognition of his contributions to the organization and to advancing the printed book.

"I hold this organization and members in the highest esteem which brings great honor and value to this award," Greene told the crowd gathered at the annual conference.


Pictured are: James Fetherston, in-coming President, Greene in center, and Kent Larson, retiring President
October 2017 - Print 17 a Big Success for GP2 and Our Customers.

"Print 17 was a big success for GP2 and our customers" is how Ted Greene, VP Sales & Marketing summed up the recent Chicago show.

"In the month since the show closed we have confirmed a tremendous amount of business, with a nice mix of printers who are new to GP2, and existing customers upgrading their older models with new solutions -- from bar-code driven size change capability to integrated material preparation/delivery add-ons."

"The Print 17 Show proves the ever growing requirement in our industry to maximize automation and grow volume for one-off and short run POD hardcover production."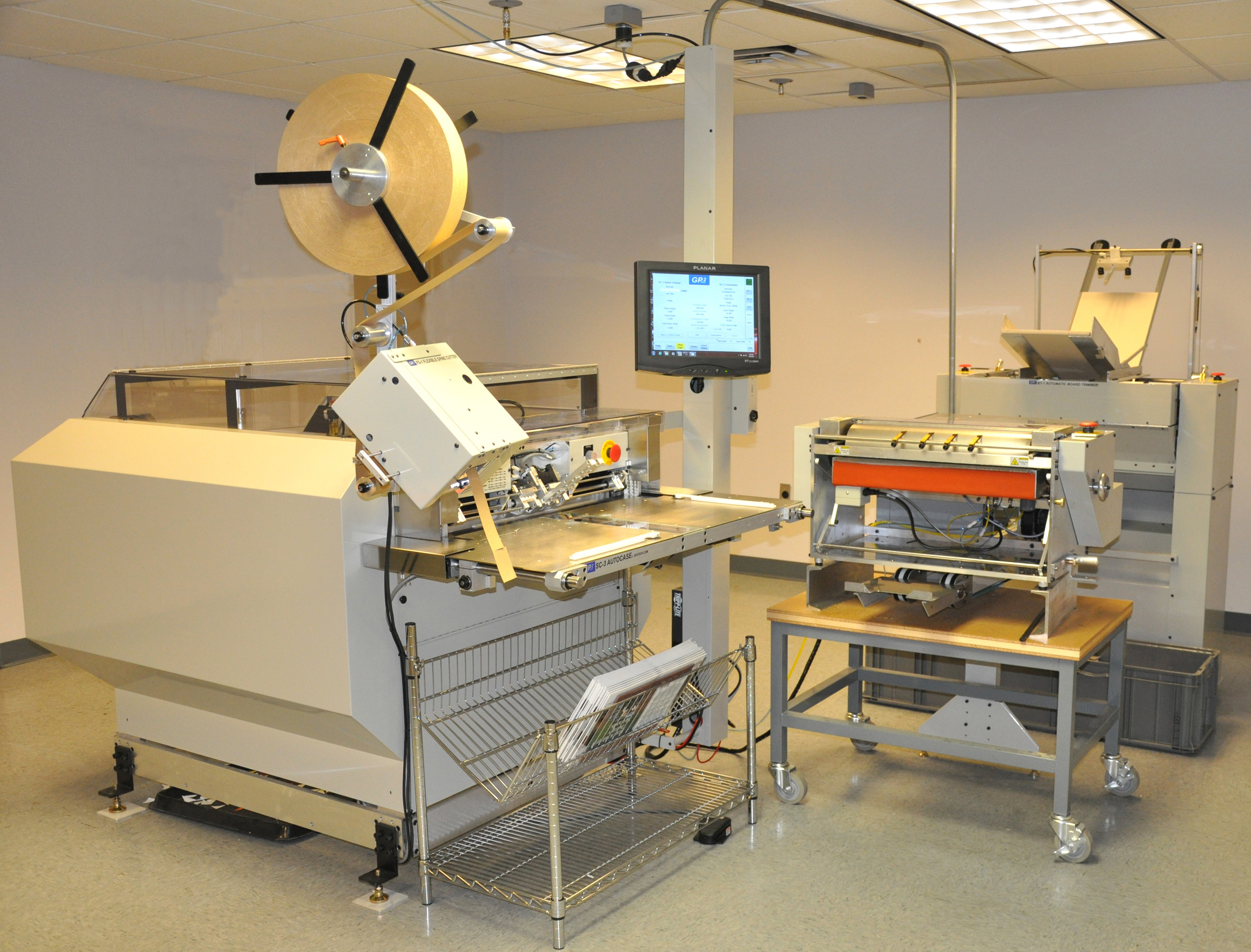 The GP2 Technologies Cover-1 Automated Casemaking System.
September 2017 - See us at Print 17.
Visit us at booth #3636 to see live demonstrations of the world's leading POD hardcover production solutions.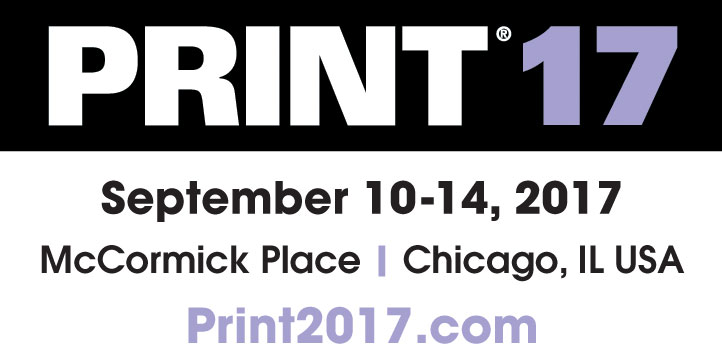 See the world's leading print-on-demand solutions from GP2 Technologies.
June 2016 - Guests at Drupa 2016 watch a live demonstration of the Cover-1 casemaker.
GP2 highlighted the latest innovations for one-off and ultra-short run hardcover production together with their European partners, Schmedt. "Once again, Drupa is proven the most important event in our industry and, once again, GP2 Technologies has shown how we lead the world in POD hardcover production solutions" states Ted Greene, VP Sales & Marketing. "The show was strong from beginning to end with excellent results in both sales and meetings with high quality contacts."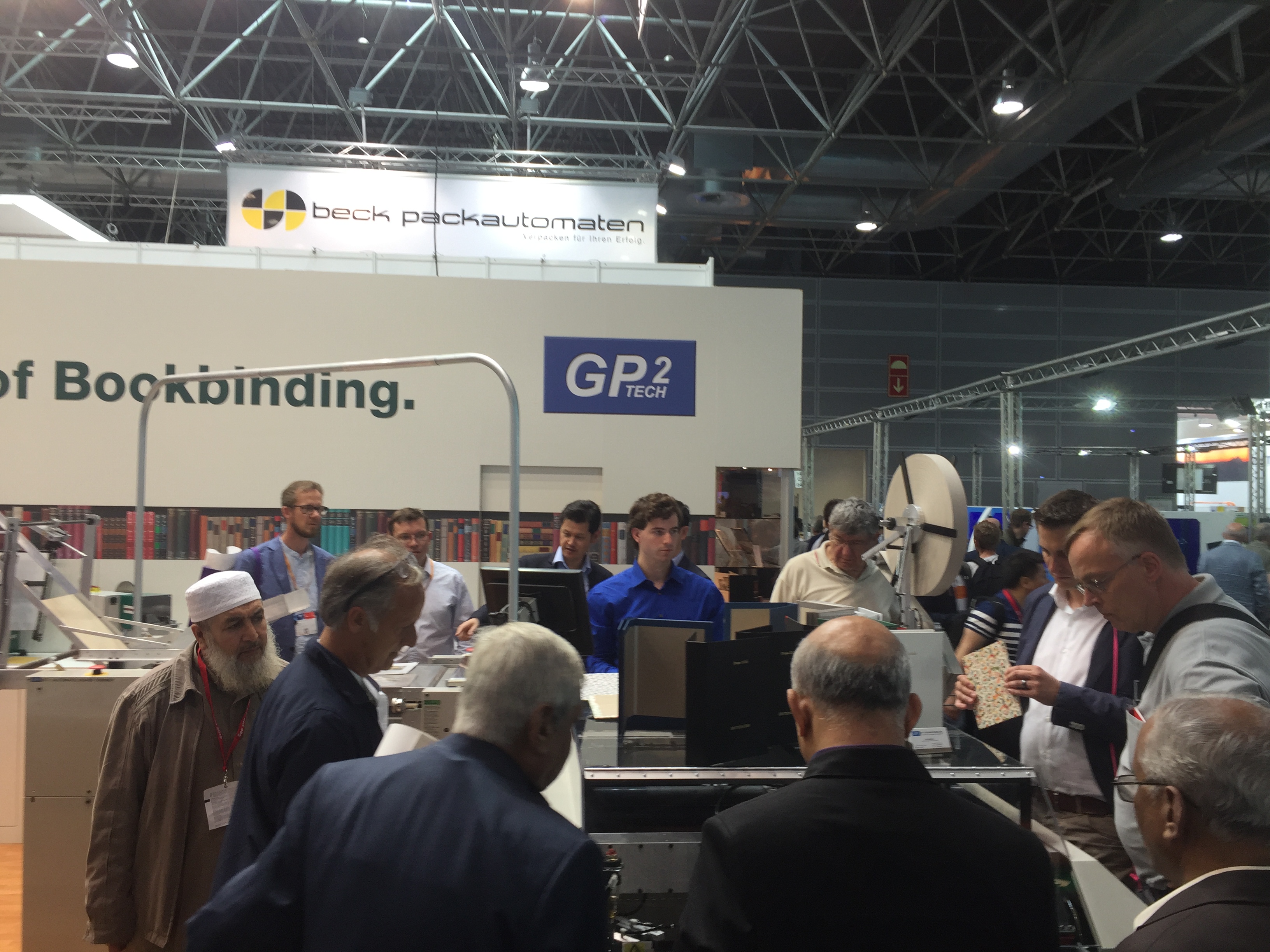 Cover-1 Casemaking System at 2016 Drupa
March 2016 - Visit us at DRUPA! Visit GP2 Technologies, and see the world's leading POD hardcover production solutions.


May 31 - June 10, 2016 Dusseldorf Germany - Hall 14 / B14
January 2016 - Quad/Graphics chooses the AC-20 Autocase casemaker for their POD hardcover initiative in Versailles, KY.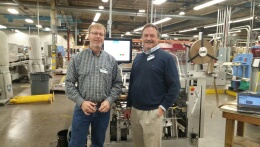 Pictured are Tom Porat and Ted Greene shortly after the December installation.
Looking for a used SC-2 Autocase?
Buy ONLY from GP2 Technologies for guaranteed quality, performance, and support.
Contact us at sales@gp2tech.com for more information.
June 10, 2015 - GP2 Technologies, Inc. celebrates it's 16 anniversary! We thank our many customers for making GP2 so successful and look forward to the many opportunities in the upcoming years.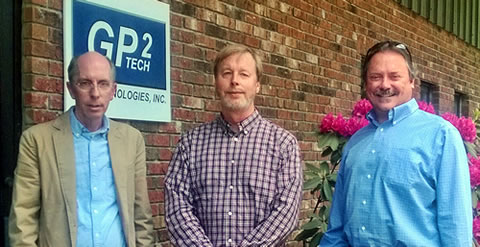 Pictured left to right: Gerald Peterson, Thomas Porat, and Ted Greene.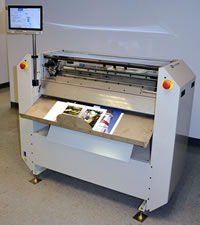 November 2014 - Introducing the CT-1 Cover Trimmer (right), the latest POD hardcover solution from GP2 Technologies. The CT-1 automatically feeds and trims cover stock from the press sheet to the exact dimensions required for casemaking. "cover trimming for one-off and ultra short run hardcover production is the next piece of the automation puzzle for our customers" says Ted Greene, VP Sales for GP2. "This machine is the perfect solution for streamlining the process while fitting perfectly into the work-cell approach we already offer with the Cover-1 System". Contact tgreene@gp2tech.com for specifications, pricing, and availability.
6/16/14 - With a new order from Angola, Africa, GP2 Technologies now counts casemaker installations in 60 countries worldwide. "This clearly demonstrates the success of our customers and reinforces our reputation for quality and reliability that we have worked so hard to build" says Ted Greene, VP Sales. "While GP2 Tech is expanding our worldwide footprint, it is also very important to note that we have confirmed the first order with a customer in our home state of New Hampshire" he adds. Kase Printing of Hudson, New Hampshire will take delivery of a full set of hardcover equipment next month.
5/1/14 - GP2 Technologies is pleased to announce the new wide format SC-2(W) casemaker. Based on the standard SC-2, known worldwide as the leading solutions for efficient, reliable production of POD hardcovers, the SC-2W will address the growing requirement for large format books with a book block trim up to 15" wide. "The SC-2W is simply another example of how we continually strive to meet our customer's production requirements in an ever-changing market" says Ted Greene, Sales Manager. Please contact Ted at tgreene@gp2tech.com for details.
3/17/14 - GP2 Technologies will host a number of customers during the week of April 14, 2014 for live demonstration of the latest hardcover "on-demand" solutions including the very successful Cover-1 System. Please contact Ted Greene (tgreene@gp2tech.com) to reserve a time and date for a comprehensive demo.
2/12/14 - 2014 has started out strong for GP2 Technologies with orders coming from all market segments and from around the world. GP2 is planning installations at the GPO (AC-20), Miller's Professional Imaging (Cover-1), and are delivering casemakers to customers in Germany and Israel this month.